Welcome to 2023! The rainy season really descended on us in mid-December and we've seen a constant deluge nearly every day since. While this has undoubtedly been beneficial for our ongoing drought conditions, a respite from the constant rain is definitely welcome. Along with the sunshine comes some welcome economic news that, while not unequivocal, certainly looks promising when compared with the runaway inflation of the past year. With that said, it's time for the January 2023 real estate market update!
Current Market Conditions
There were a couple of important reports that came out last week that indicate that the Feds' interest rate increases are having the desired effect on inflation.
First, the December Consumer Price Index Report. Overall prices actually decreased by 0.1% over November which is the first decline in prices since May of 2020, nearly 3 years ago. When excluding volatile energy and food prices, the core inflation rate was 5.7%, down from 6% in November.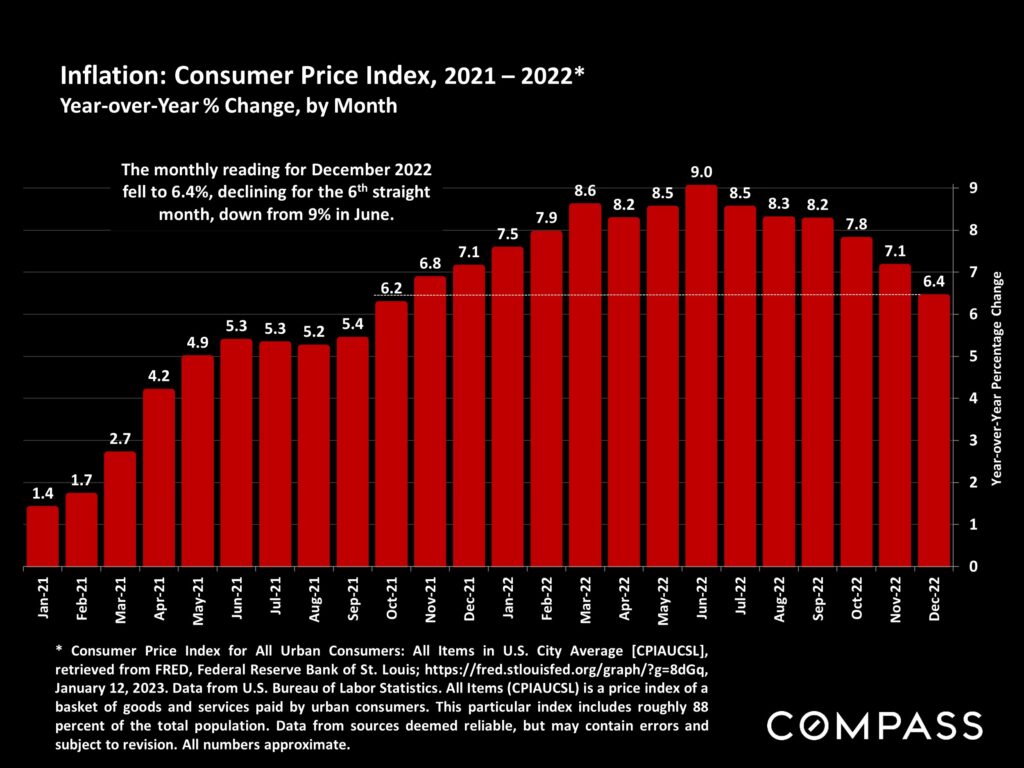 It is notable that housing prices (including property purchases and rental costs) still increased by 0.8% from December and was up 7.5% from December of 2021. This 'shelter' category accounts for 40% of the core CPI index and more than half of the overall annual increase. This means that on average, property prices are still rising, although at a slower rate than last year.
In addition to the generally good news in the CPI report, the December employment report also indicate some positive trends. Unemployment dropped to 3.5%, a level not seen since 1969. In addition, the economy added 223,000 jobs in December.
In the Bay Area we have seen reports over the past few months of mass layoffs from tech companies including Twitter, Stripe, Meta, Amazon, Salesforce, and others. While this gives the impression that the economy is entering a recession, in reality the Information Technology sector is a very small portion of the overall economy (<1%), and even this sector saw unemployment levels of just 1.8%. Consequently the job market remains relatively robust by any measure.
While the CPI and employment reports are both positive developments, inflation is still well above the Fed target of 2% which means that there is some more work to do before we can anticipate an end to the interest rate increases of the past year.
Also, the jobs report, while showing the economy remains healthy and at nearly full employment, may be concerning for Fed watchers. Wages remain high which can lead to higher spending and ongoing price growth, the exact thing the Federal Reserve is trying to guard against.
The Fed meets again on January 31st – February 1st and most economic experts are predicting an interest rate increase of 25 basis points, down from 50 basis points at the December meeting. The Fed wants to be careful to signal that rates will continue to increase until inflation has dropped much closer to the target level. If they ease up on their monetary policy strategy now, there is concern that markets will react with outsized appreciation which could restart inflation.
Is A Recession Likely?
Of course no one really knows the answer to that question, but the most recent economic data indicates that a "soft landing" may still be possible. This is a situation where the Federal Reserve threads the needle of interest rate increases to fight inflation without sending the economy into negative growth territory. Regardless of the specifics, it increasingly looks like inflation fighting measures are taking hold and if we do encounter a downturn it is likely to be short and mild.
What Does This Mean for Berkeley Homeowners and Sellers?
So on to what this economic data means for buyers and sellers of real estate in Berkeley and the surrounding areas. If you are a homeowner who is considering selling in the near to mid-term future, what should be thinking about?
Real estate inventory in the Berkeley area remains very tight with just 21 homes for sale (of nearly 50,000) in Berkeley for the week of January 9, 2023. This means we are still in a seller's market and prices remain elevated compared with last year.
With mortgage interest rates declining slowly, we are likely to see more buyers enter the market during the peak spring period. This is a going to be a good opportunity for homeowners to capture top value for their property. Consequently, now is the time to begin to prepare your home for the market.
If you happen to have an assumable mortgage, you will have the upper hand when it comes to attracting buyers. It's worth contacting your lender to determine if your mortgage can be passed along to a new buyer. If you refinanced during the a period of low interest rates, this will be very appealing to prospective buyers.
If you happen to have solar panels on your home, you are likely under a Net Energy Metering tariff with PG&E which allows you sell excess electricity back to the utility at the fair market rate. Beginning on April 15th of 2023 this export rate will be dropping by a whopping 75% for new solar customers. You will be grandfathered into your old rate for 20 years from the date of your solar installation and this rate can be transferred to a new owner. This is another great benefit to market if you are considering selling your home.
Many home owners are holding off on listing until rates decline so that buying a new home (after selling their current home) isn't as expensive. However, as mortgage interest rates continue to decline over the next year, more home owners are likely to list their home. This will create more competition for a limited number of buyers and possibly reduce home values. Moving more quickly could be financially advantageous for you.
What Does This Mean for Berkeley Area Buyers?
One of the biggest considerations for any home buyer is affordability. The recent run up in mortgage interest rates have meant less borrowing power and thus lower purchase budgets. With local inventory remaining extremely limited, this remains a challenging environment for buyers, particularly those trying to enter the market for the first time. One of the benefits of the recent news that inflation is dropping has been a corresponding reduction in mortgage interest rates: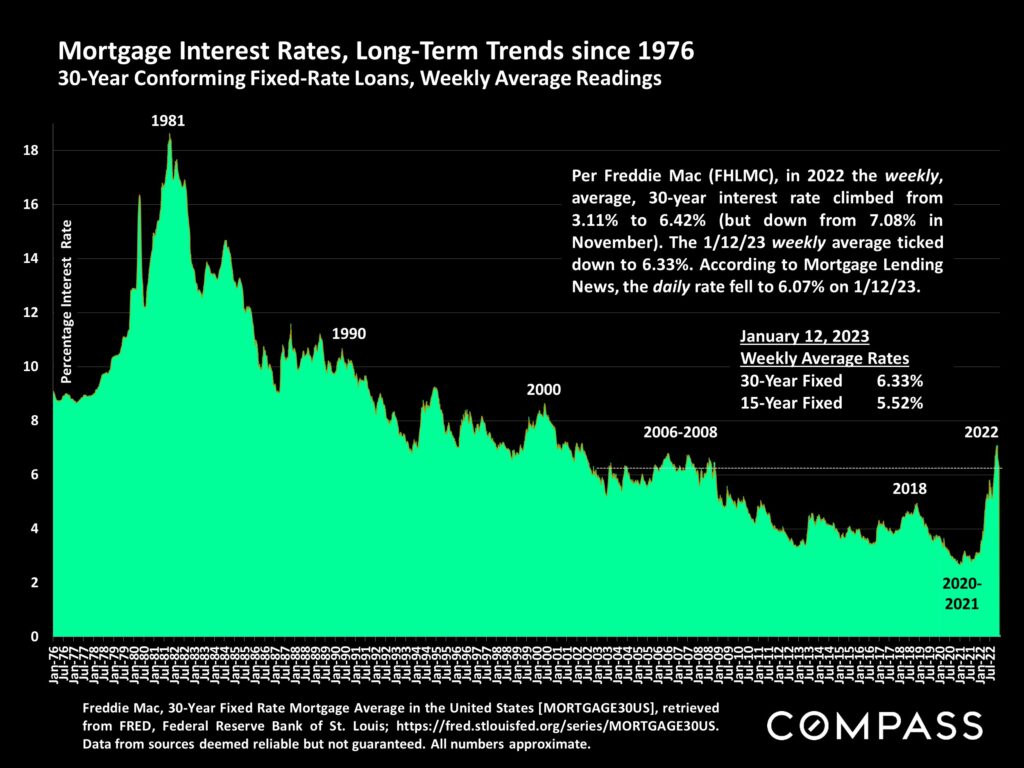 While rates are still up from a year ago, they are now getting close to 6% which remains very reasonable from an historical perspective. So what does this data mean for you?
Mortgage interest rates have declined over the past few months giving buyers more purchasing power. This may be the time to purchase, particularly if you plan to hold for at least 5-10 years. You can begin building equity immediately and feel confident that your home purchase will appreciate over the long-term.
As rates decline over the coming year, more buyers will enter the market, creating more competition. More competition means it will be harder to submit a winning bid on limited inventory, so consider getting into the market before competition increases.
Don't forget that interest rates are still at historic lows. Also, when you purchase a home you can deduct your mortgage interest and certain qualified expenses. This goes along with any property appreciation you may experience during the time you own your home. In short, home ownership is one of the most reliable methods of wealth building, so the sooner you start, the sooner your wealth grows.
Conclusion
While we're not out of the proverbial inflationary woods yet, things seem to be headed in the right direction. It will be interesting to follow the moves of the Federal Reserve at their next meeting as well as throughout the year. Overall this year could be a good time to buy or sell a home depending on your particular financial circumstances. If you would like a free home valuation please don't hesitate to contact me for more information. If you are considering purchasing a home I can set-up an automated search with your detailed criteria which will be emailed to you daily.
Regardless of where you are in your real estate journey, I'll continue to provide regular market updates, and don't hesitate to reach out if I can answer any questions for you or your friends and family. Till next month!