Welcome to my September 2022 real estate market update. As you may have heard by now, in an effort to combat ongoing inflation the Federal Reserve raised interest rates by 75 basis points on Wednesday, marking the fifth increase of 2022.
While the Federal Reserve Rate is not directly tied to mortgage rates, there is a close correlation as investors sell equities and invest in bonds which are providing greater returns. Because of this shift from equities to bonds, fewer investors are purchasing mortgage backed securities (MBS) which leads financial institutions to increase mortgage rates to entice investors back to these securities. Notably, the Fed is not currently planning to sell off its portfolio of MBS for the foreseeable future which would flood the market with these securities and likely lead to even higher mortgage rates. Since the market was generally expecting the Fed to raise rates during its September meeting, much of these increases are already priced into stock values and mortgage rates.
What was unknown until Wednesday afternoon was the Fed's expectation on future rate increases over the reminder of the year and beyond. At the September 21st meeting, Federal Reserve Chairman Jerome Powell indicated that the Fed intends to raise rates as much as 125 basis points over the remaining two meetings scheduled for 2022, and possibly more in 2023. The Fed also forecast that unemployment will increase from the current rate of 3.3% to 4.4% by the end of 2023. Given all of this, here is a summary of where things stand with the housing market:
Higher financing costs have dampened buyer purchasing power and we can expect this to continue through the remainder of the year.
Affordability for buyers remains a significant concern with prices up nearly 8% from a year ago.
Mortgage payments are more than 60% higher than they were a year ago.
Reduction in demand for home purchases has resulted in sales down nearly 20% from the same period last year.
The housing market is moving away from a sellers market to a more balanced market.
30-year fixed rate mortgages are now hovering close to 6.5% and some economists are forecasting that rates could exceed 7% in the next few months.
So what does all of this mean for buyers or sellers of real estate in Berkeley? The picture is cloudy, but here are some things we do know:
Keep in mind that mortgage rates remain relatively low from an historical perspective. Rates averaged close to 9% for much of the 1980s and 1990s.
With rates forecast to increase, buyers looking to get into the market have an incentive to move quickly to lock in more affordable rates.
Given the expectation for increased unemployment, it is likely that the Fed will begin to peel back interest rates in 2023 and beyond.
As we move toward a more balanced market, the balance of 'power' will continue to shift away from sellers toward buyers.
Sellers should also consider moving quickly to list their properties if you will need to sell in the next year, before mortgage rates increase further.
As a buyer, determining affordability in an adjusting market and not exceeding what you can comfortably afford is key to building long term equity. You want to make sure you can avoiding the need to sell if you lose your job, have a balloon payment come due, or encounter some other unexpected large expense. Of course no one has a crystal ball and it is impossible to time the market in the short run. However, over a 5-10 year time horizon, Bay Area real estate has historically appreciated at a rate exceeding the broader market so real estate remains an excellent investing asset class.
Here is a quick snapshot of Berkeley market activity over the past month along with month-over-month changes on several key metrics: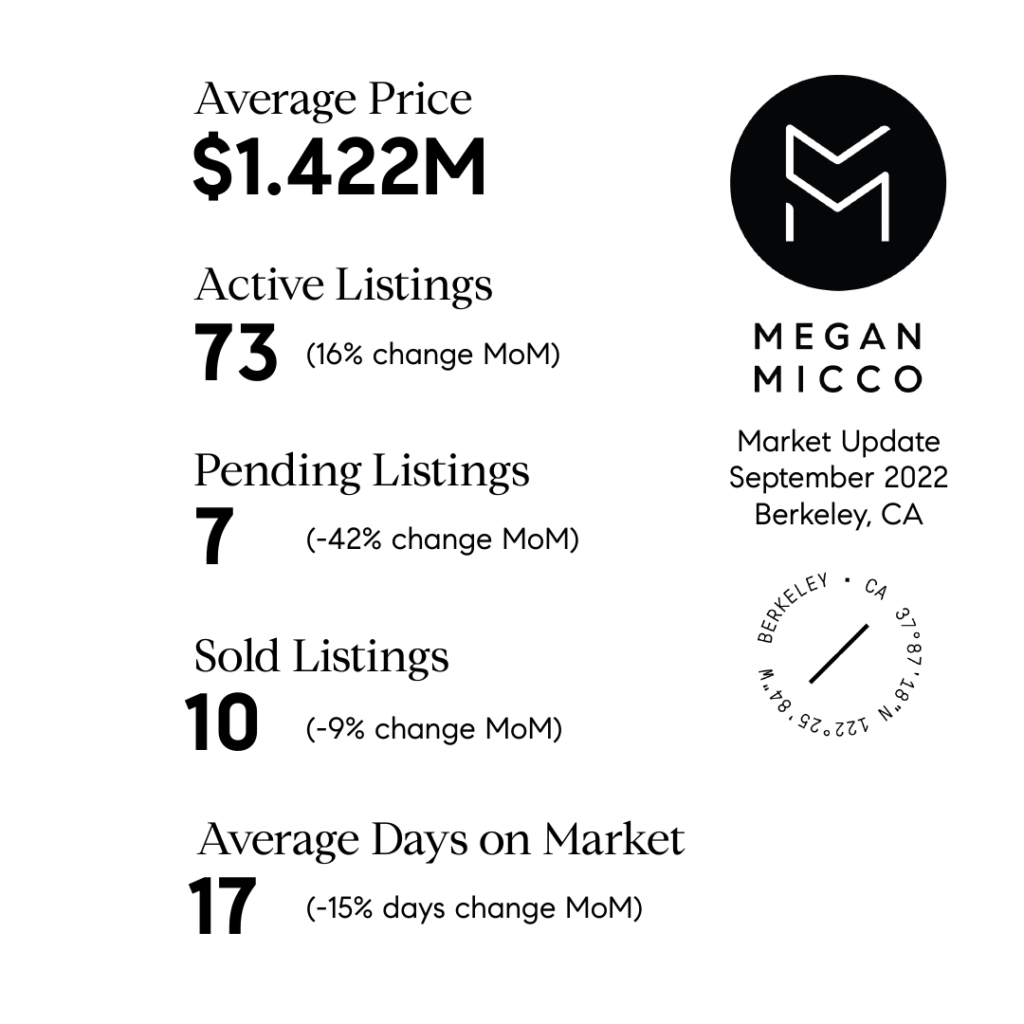 If you want to learn more, please reach out to me for an individualized consultation. I can help you analyze your particular financial situation to determine what role real estate might play in your financial future. Even if you are not buying or selling in the short run, being armed with more information can help you plan for future investments and bring peace of mind during uncertain times. I look forward to hearing from you soon!