Welcome to my April 2023 real estate market update. Given the general turbulence of the financial markets this year, the past few weeks have been relatively calm. The most recent Consumer Price Index Report was just released and as always it provides some clues on how the economy is faring, what the implications are for the near future, and how these data are likely to impact the real estate market.
I also want to take a look at some local data and investigate what that may mean for home prices and real estate inventory in the Berkeley area and beyond over the coming months. There's also an interesting item of note that provides some anecdotal clues on the state of the market that I'll cover at the end of this update.
Current Market Conditions
First, the good news. On an annual basis inflation fell for the sixth straight month and importantly, grocery prices declined on a monthly basis for the first time since September of 2020. In addition, energy costs were down 3.5% but the core index that excludes volatile food and energy prices was actually slightly up over the prior month. Overall, inflation grew by just 0.1% in March compared with February which was less than analysts expectations.
So while the top line data was relatively positive and exceeded some expectations, the underlying trends are largely mixed. Vehicle prices were up, energy prices were down, food prices were flat (groceries down but restaurants up), and the important shelter category was also up, but slightly less so than in February. Shelter costs remain up more than 8% from the prior year and the category makes up more than a third of the index weighting.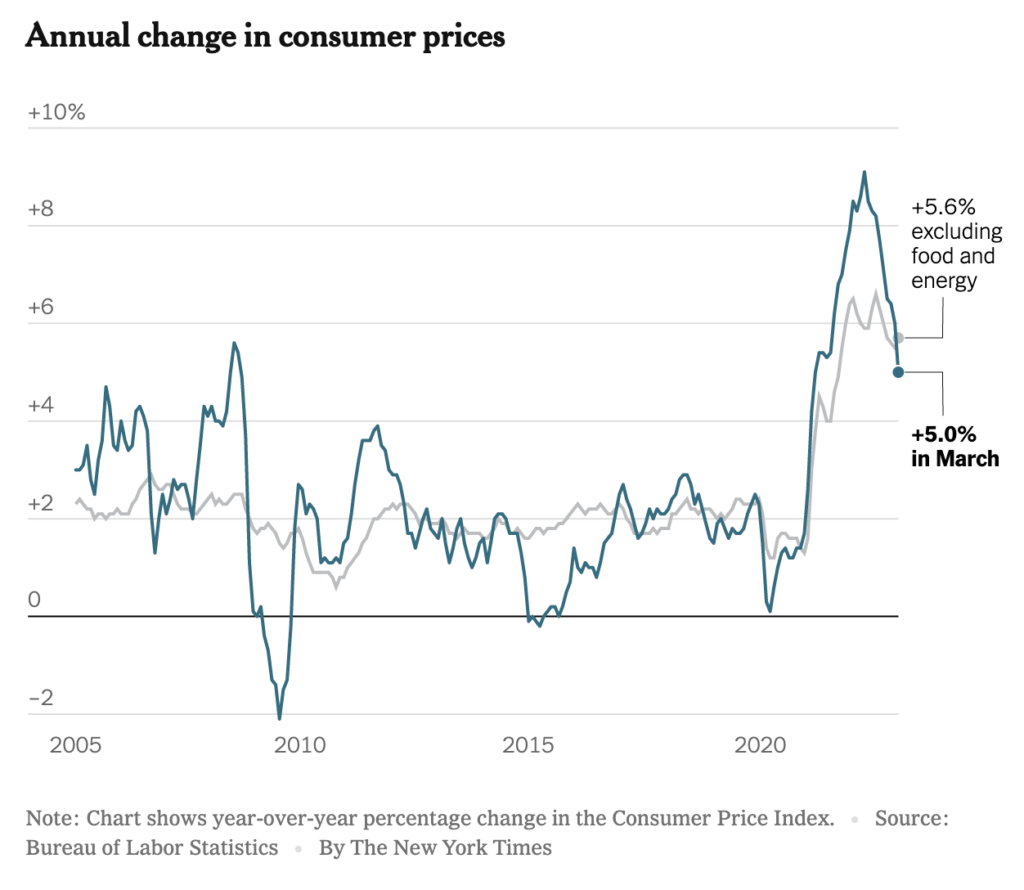 So the general outlook is that inflation continues to slow, but not as quickly as many economists would have hoped given the relatively dramatic interest rate increases of the past year. Throw in ongoing concerns about global banking liquidity, and I come to the conclusion that economic uncertainty is the prevailing mood of the day.
Why It Matters
Why should you care? At some level you shouldn't. Life goes on regardless of the month-to-month fluctuations in consumer prices. However, these data are the leading indicators of how the federal reserve will respond in terms of future rate increases which can have a much broader impact on slowing the economy. This could lead to multiple fiscal quarters of negative growth (also known as a recession) and possible job losses. In addition, as the Fed raises interest rates, home mortgage rates also tend to rise which makes home purchasing even more difficult for many people looking to get into the market. And that is top of mind for me and my clients!
What This Means For Real Estate
Since the shelter category accounts for 40% of the CPI, it is one of the biggest drivers keeping inflation high. This creates a paradox for monetary policy makers. By increasing interest rates to slow inflation, they make housing less affordable which in turn leads to higher costs for shelter, which recursively leads to higher inflation – at least in the housing sector. I guess that just reminds me that I'm glad not to be responsible for crafting economic policy.
The shelter price index grew at a slower pace this past month, signaling that house prices are starting to fall slightly. However, ongoing rate lock-in is discouraging home sellers from listing their properties, which is not helping people who are renting. The combination of comparatively high mortgage interest rates and limited housing inventory is still keeping many buyers on the sidelines. This means those people continue to rent which keeps rental rates high. That said, it appears we may have reached a rental rate peak as shelter prices moderate.
Also, mortgage interest rates declined again for the fifth consecutive week, somewhat mirroring the modest drop in overall inflation.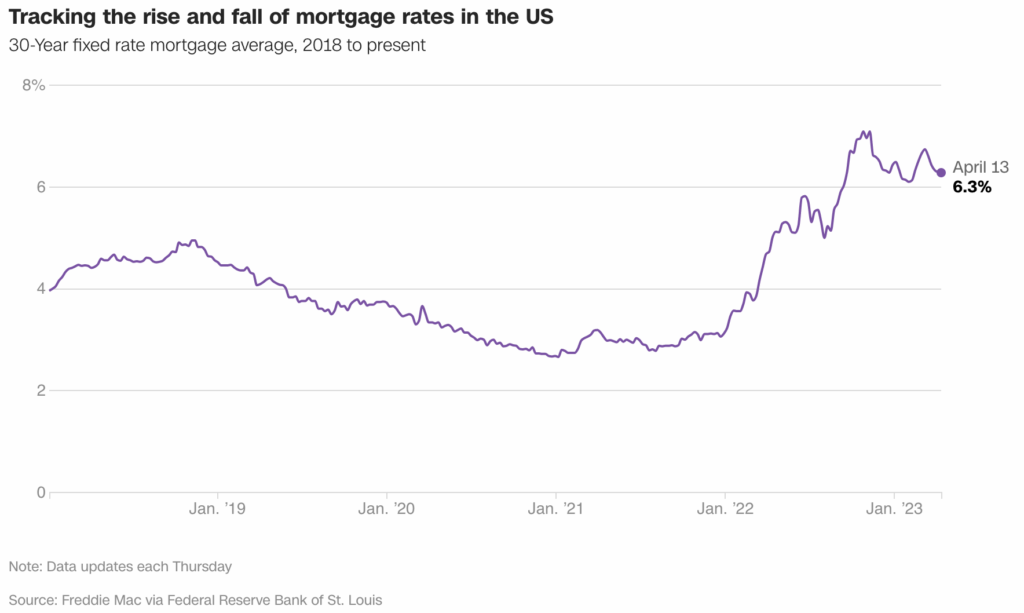 This is obviously good news, and part of that decline is due to factors that go beyond inflation and the federal funds rate. Due to balance sheet concerns at many global banks, lending standards are becoming more strict. That means that it takes a better credit score and more personal assets to qualify for a mortgage. Since fewer people are qualifying for mortgages, demand is down which leads banks to lower rates to attract more buyers. This is particularly true in the jumbo segment. Non-conforming jumbo loans (those above $970,800 in the Berkeley and the greater Bay Area real estate market) averaged 5.8% this past week compared with 6.3% for conventional loans.
And One More Thing…
The California Housing Finance Authority, or CalHFA, recently introduced a program called Dream for All, which is a shared appreciation loan. The program effectively offers first time homeowners (defined as anyone who has not owned a home within the past 3 years) up to 20% of the purchase price of a home for a down payment at no cost. The CalHFA is repaid 20% of the home appreciation when the property is sold.
The state of California has allocated $300 million to fund the program, with another $200 million in reserve funding. The program proved so popular that over 2,300 loan application were processed within the first 11 days of program availability, leading the CalHFA to suspend the program due to running out of capital.
We'll see if the state releases the additional reserves or if the legislature approves further expenditures to support home ownership, but the success of this program is a clear indication of pent up buyer demand. It seems that if mortgages were more affordable, or if buyers had more capital reserves, we would see a higher volume of real estate transactions in the California market. Of course the downside to that demand would be more competition for the few homes listed on the market, thus further driving up prices and decreasing affordability for home buyers.
Conclusion
While limited inventory, high mortgage interest rates, and ongoing buyer demand mean that the real estate market will remain challenging for both buyers and sellers for the foreseeable future, that doesn't mean that there aren't opportunities. Though competition remains stiff, well qualified buyers with large down payments will find themselves in a strong position to compete against multiple offers. Targeting properties with the help of an exceptional, local real estate agent will enable buyers to cross the equity gate sooner rather than later resulting in long-term asset appreciation. Home sellers are also continuing to experience strong property values due to limited inventory and comparatively high demand.
The next date to track will be the Federal Reserve Bard meeting on May 3rd when they will consider further interest rate hikes. Ongoing concerns with stability in the banking sector may temper the instinct to raise rates further, but given how slowly the economy has responded to previous rate hikes, I would bet that we'll see another increase of 0.25%.
Regardless of where you are in your real estate journey, I'll continue to provide regular market updates, and don't hesitate to reach out if I can answer any questions for you or your friends and family. Till next month!