It's late fall already and the real estate market continues to be unpredictable and constantly changing. This means it's time for the November 2022 real estate market update. In the past two months I've had listings that sat on the market for weeks before receiving a single offer, but I've also had properties sell for well above the list price off-market due to excessive buyer demand.
Some neighborhoods are continuing to see strong appreciation and short sales cycles. Others have high days-on-market and single offers below list price. Buyers continue to value walkability, bonus areas (an office or workout room), and outdoor spaces and are looking for turn-key properties that don't require much if any work.
Current Market Conditions
At the macro level, we've also seen some very interesting developments over the past few weeks. Here are some highlights:
The October Consumer Price Index (CPI) report showed that while the prices rose 7.7% for the year through October, analyst consensus predicted an 8% increase. This is seen as a possible sign that inflation may be close to peaking, or possibly even declining.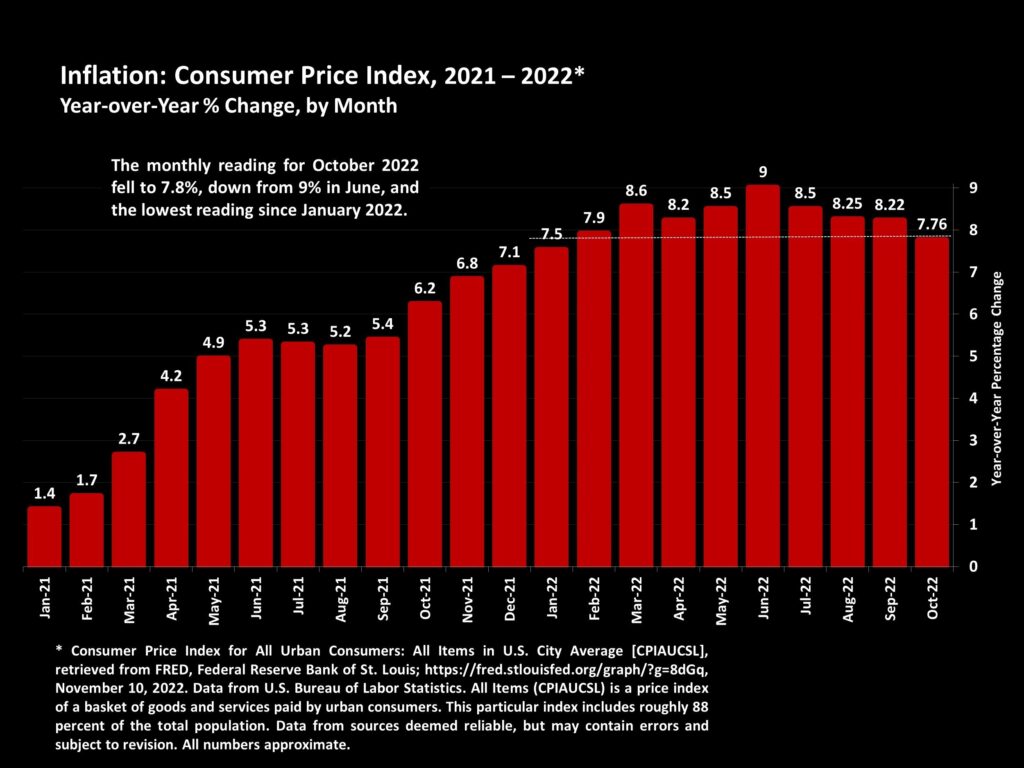 Correlating with the CPI, the Producer Price Index report showed prices paid for goods and services before they reach consumers was down 0.1% from September to October. This is another indication that we may be reaching peak inflation.
Markets responded exuberantly to this economic data by surging 800 points on November 8th. The markets seem to infer from the data that the Federal Reserve may temper future interest rate increases. The Fed was earlier thought to be contemplating a 75 basis point increase at the upcoming December meeting. It now appears the market is pricing in a smaller 50 basis point increase.
While all this data is encouraging from a mortgage interest rate perspective, keep in mind that this is just a single set of data. It isn't possible to confidential declare a trend quite yet. The next CPI and PPI reports for November should elucidate the longer term trends.
While the tech sector has been getting a lot of attention for recent layoffs, the fact that Amazon announced layoffs of up to 10,000 employees is more an indication of underlying consumer confidence. Amazon is forecasting reduced holiday season spending which could be another indication that we may be reaching peak inflation.
Somewhat surprisingly, mortgage interest rates dropped from 7.08% to 6.61% over the past week. This is the largest weekly drop since 1981. This appears to be a response to the encouraging inflation data. However, a surge in November inflationary data could reverse these gains. It's also useful to keep in mind the recent history of mortgage interest rates. Rates are still comparatively low by historical standards.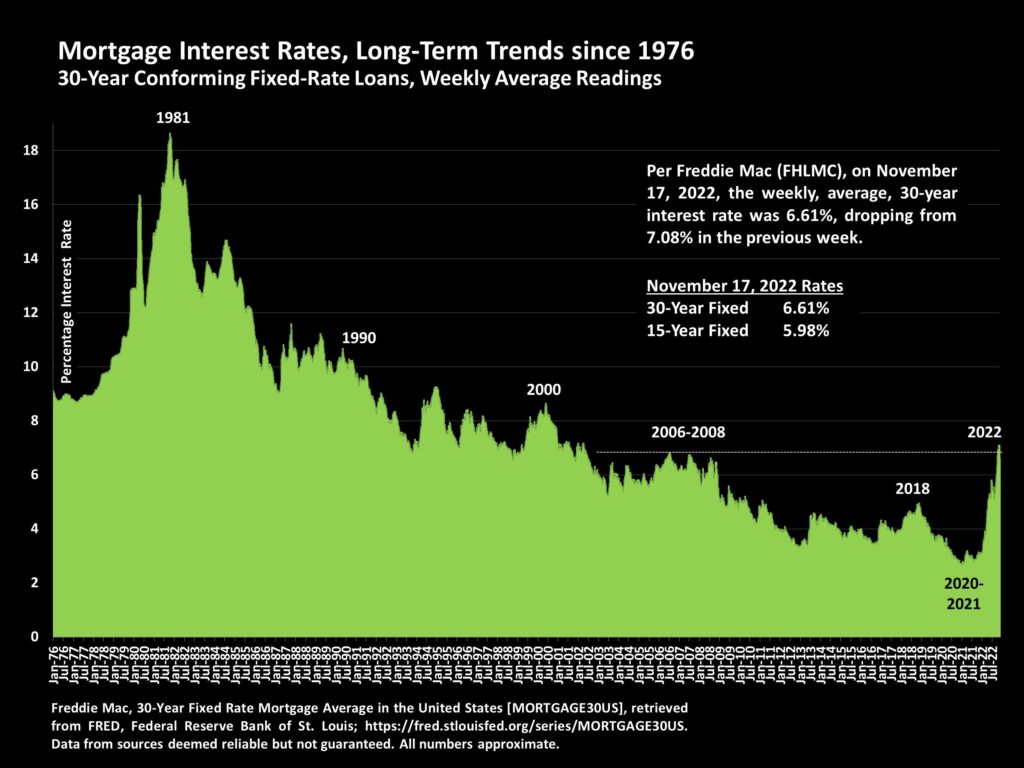 2023 Real Estate Market Forecast
Based on this November 2022 real estate market update, here are is my forecast for the Berkeley real estate market in the coming months:
We are still seeing some inventory constraints due to seller mortgage lock in. Homeowners are hesitant to list their properties for sale due to lower values and because they will most likely need to repurchase at higher interest rates.
I expect mortgage interest rates to seesaw throughout the first half of 2023 and then decline. As mortgage rates begin to come down later in the year, more buyers will enter the market and competition for the limited homes on the market will increase. This will mean stable to slightly higher prices.
Ongoing Federal Reserve rate increases to continue to combat inflation will continue through the first half of 2023, but by the end of next year I expect mortgage interest rates to stabilize around 5.5%.
What Does This Mean for Berkeley Homeowners and Sellers?
Homeowners who are considering selling their property find themselves in a difficult situation. While inventory remains relatively low, buyer demand is also considerably reduced from earlier in the year. That means homes sitting on the market longer and selling for less money.
As inflation is brought under control and mortgage interest rates moderate over the next 6-12 months, more buyers will enter the market. However, more inventory is also likely to become available. It's not clear how this will impact home values. Given the ongoing lack of housing in the Bay Area, property values are likely to remain relatively healthy.
Buyers will adjust to a new, higher mortgage interest rate regime. They will gradually realize that the days of 3% loans is over for the foreseeable future. I expect demand to increase which will favor sellers beginning this coming spring.
What Does This Mean for Berkeley Area Buyers?
If you are in the market to buy a home, now may be the best time in the next year. While interest rates are relatively high, having few buyers to compete with means there are deals to be had. Given homeowners who 'need to sell' you can possibly negotiate seller concessions. One example of this is a seller credit to buying down your mortgage interest rate. This will offer a more affordable monthly payment.
Assuming you have an investment horizon of at least 5 years, I always advise my buyer clients to get into contract as soon as possible to begin building equity. The additional interest costs in the short-term will be eclipsed by property appreciation over the long-term.
You can never count on short term value appreciation when purchasing property. That said, all of the data suggests that mortgage interest rates will be declining over the next year. This means that bold buyers will have the opportunity to refinance their mortgages. This could lead to a home purchase at a favorable price and reduced monthly payments in the months ahead after refinancing.
Conclusion
While the market remains unpredictable, the clouds appear to be clearing a bit. There is a line of sight towards reduced inflation and lower mortgage interest rates in the coming year. Of course any decisions you make regarding real estate investments depend heavily on your personal circumstances, so I urge you to contact me to discuss the details and evaluate the options. I also appreciate you following my November 2022 real estate market update.
My goal is always to support my clients over the lifetime of their real estate journey and I can help advise you on things you can do today as well as tomorrow in order to accomplish your long-term goals.