It's now time for my June 2023 real estate market update. While the June gloom settled in a little early this year, we're now moving into the heart of the summer season, which for real estate typically means a slower time with fewer transactions. It seems that the macro economic environment is aligned with the season as we review the May Consumer Price Index (CPI) Report as well as the most recent Federal Reserve Open Market Committee decision. Both of these reports indicate something of a stasis period but with a fair amount of uncertainty remaining. I feel that we're in a similar situation with our Bay Area weather – muddling through the morning fog, hoping for a bright sunny day in the near future.
Current Market Conditions
Let's start with the May CPI report. The headline is that inflation rose 4% from last May which is the lowest level in 2 years. The month-over-month increase from April to May was a paltry 0.1%. This data is seen as a sign that the Federal reserve interest rate hikes of the past 15 months are working, and Inflation is getting much closer to the annual target rate of just 2%. Unfortunately, there are some underlying trends that make this data less encouraging than it may appear at first glance. Removing volatile food and energy prices to arrive at what is referred to as the 'core' rate, we see that inflation rose a less encouraging 5.3% from the prior year.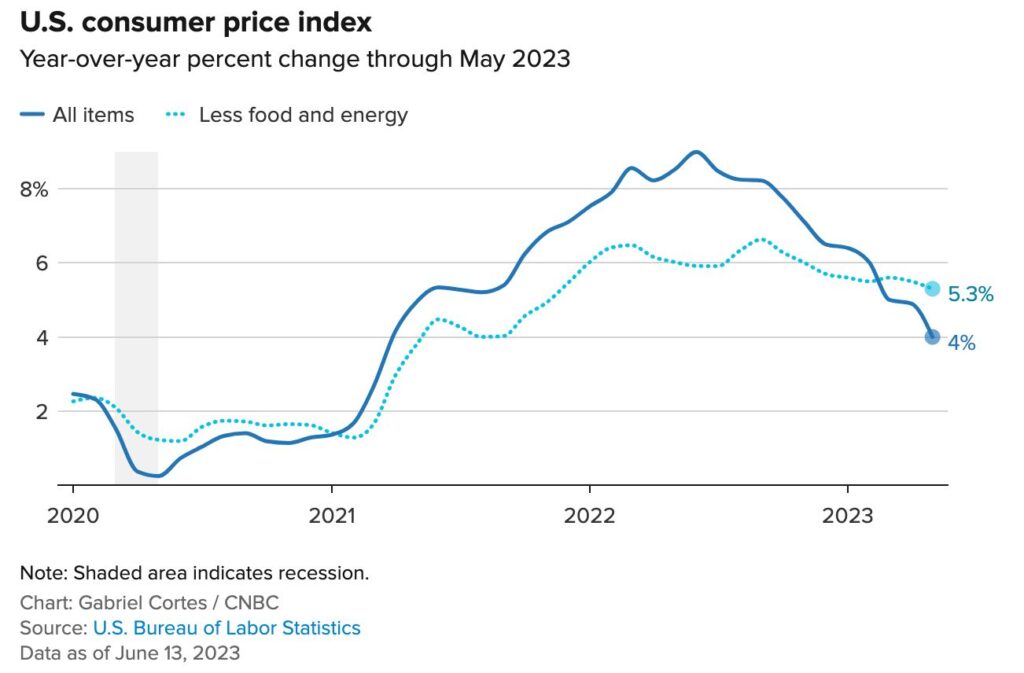 It appears that the primary factor influencing the data is a reduction in energy prices of 3.6%. Middle east oil production has increased and as we move into the summer months, reliance on energy for heating has declined so a downward trend in energy prices is unsurprising.
More importantly, and troubling, for the purposes of my analysis are shelter prices. The cost of rent and what is referred to as homeowner rent equivalents (the implicit rental values of owner occupied properties) increased 0.6% from the prior month. The 'shelter' category makes up nearly 30% of the entire index so housing costs have a disproportionate impact on the overall inflation numbers. This means that as long as housing prices remain elevated, we're going to see some persistent inflationary numbers.
Another thing to consider is the labor market. We saw job growth slow slightly in May but it is still up 5.2% from the prior year. Wage growth has also slowed a bit which could help reduce further price increases for consumer goods as people have less disposable income to spend.
Then there is the Federal Reserve. The open market committee this week voted to hold the prime rate at around 5%, but forecast there could be a couple of modest increases before the end of the fiscal year. Most analysts are now predicting two 0.25% rate hikes to end the year around 5.5%. While there remains concerns that core inflation is still growing at an unacceptably high rate, tightening credit due to recent bank failures may play a factor in helping slow growth without the need for further monetary policy moves. That said, the Fed is not convinced that the banking sector is not yet having any impact on helping to slow the larger economy.
Why It Matters
While things could certainly change in the future, at this point it appears that the U.S. economy is going to avoid a recession, or at least if it occurs, it will be mild. With robust employment, declining inflation, and a line of sight to the end of interest rate increases, the economy appears to be in pretty good shape.
Interestingly, in a recent poll a majority of American's (64%) say that they would accept a recession if it meant that buying a home would become more affordable.
What This Means For Real Estate
Mortgage rates have remained high over the month or so, in part due to the uncertainty of a possible credit default on the part of the federal government due to the debt ceiling crisis. Since that crisis has now been averted with a (short-term) deal, we are now seeing a slight reduction in mortgage rates, which is a good sign for both home buyers and home sellers.
Since the Fed has provided guidance on the likely extent of future rate hikes, the markets are beginning to price in these increases. This means there will be less volatility in future months when and if the rate increases come to pass.
In the short term, inventory remains relatively tight and buyers are looking for a reduction in interest rates before coming back to the market in droves. Also, summer means travel and other distractions so we generally expect transaction volumes to slow down through August.
One More Thing…
Several large insurance companies have left the California market recently meaning it is harder to find and afford home owners insurance. Part of the reason for this exodus is the increased risk of fires, which is not something we're immune from in Berkeley real estate. This is important because it generally isn't possible to get a mortgage without having hazard insurance on the property. This could make it more challenging for both buyers and sellers over the coming months to transact if insurance options remain unavailable.
I'll have a lot more to say on this topic in upcoming posts, but in the meantime, if you have questions about what options exist for insurance and how you should be thinking about this when buying or selling your home, reach out to me for a more detailed conversation.
Conclusion
If you're considering buying or selling a home in the next 6 months, now is the time to start to prepare. Get your home ready for the market with improvements that will give you the best ROI and get your financing in order if you'll be making a purchase.
Regardless of where you are in your real estate journey, I'll continue to provide regular market updates, and don't hesitate to reach out if I can answer any questions for you or your friends and family. Till next month!